8/18/19 PT Ranch Indigo Workshop
Here I am with Molly Taylor of PT Ranch discussing the qualities and attributes of persicaria in the field. What a special opportunity I had when Molly contacted me to see if I'd be interested in partnering with the ranch to do an indigo event. Yes!!!
The research is ongoing, but with the first harvest of indigo (see my instagram page for plenty of photos @biohue) I began the extraction process, using a few different techniques, checking for efficacy. I settled on a fermentation process and used the resulting pigment in our vats. With second harvest coming up, I will compare calculations and colors to present at the Fibershed panel discussion at the November Symposium. The symposium has amazing vendors and excellent topics that move the soil, dye and fiber discussion forward; I encourage you to attend the event in Point Reyes, November 16th, 2019.
Ferrous Vat with PT Ranch Persicaria Extract
Great Day on the ranch in Ione, CA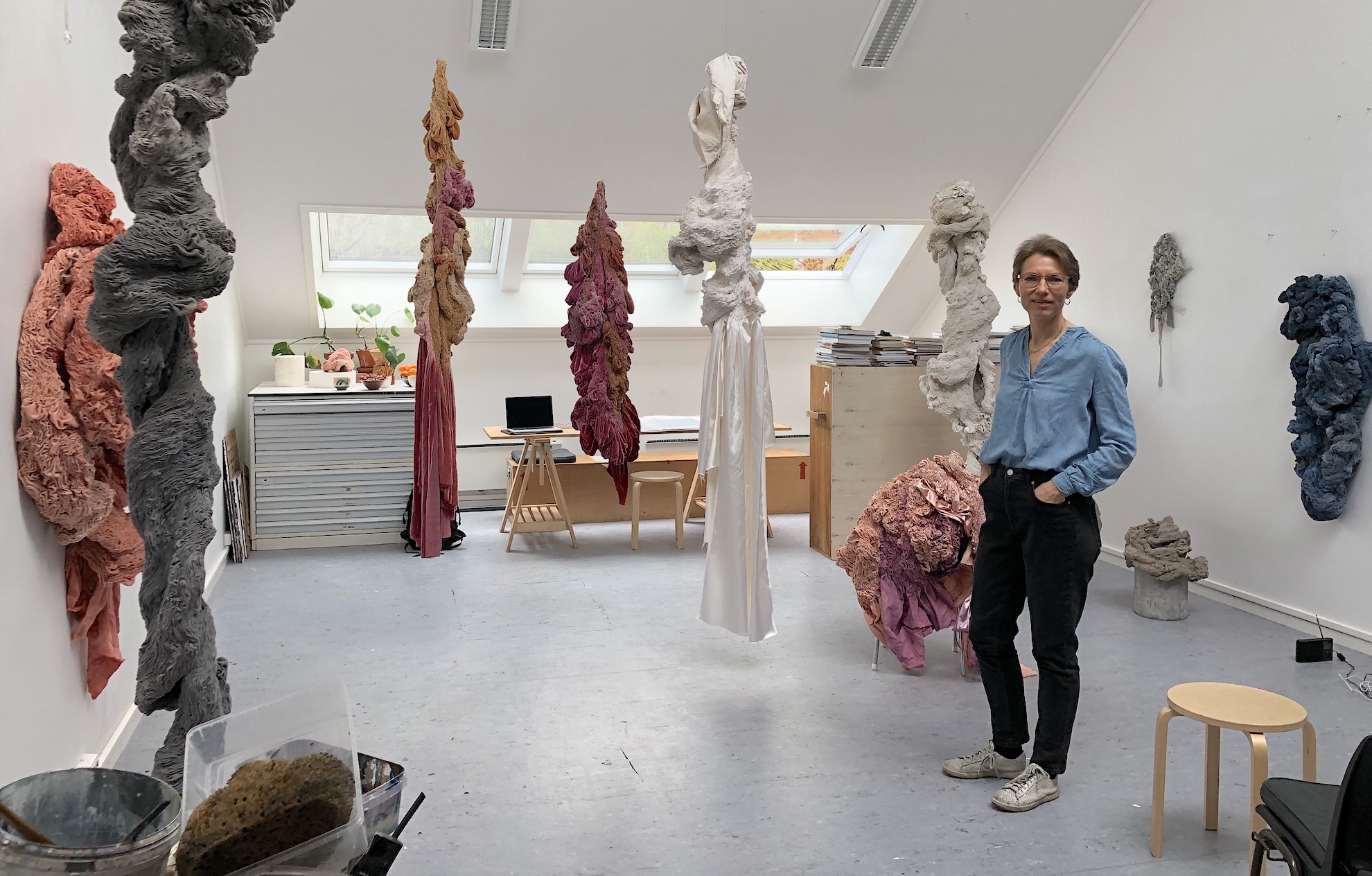 4/27/19 Hanne Friis in her Oslo studio!
What a treat to visit Hanne Friis in her Oslo studio. While I am behind in updating my blog, I am so pleased to be able to revisit her work via the images. Hanne works with fabric, and as she tells it, she was a painter and the next step for her was to remove the canvas and to transform it. Hanne stitches the cotton duck material into shapes and forms driven largely by her experimentation and intuition. The canvas is dyed beforehand using natural colors. When I arrived, she was checking some fabric in an acorn bath. I love the sumptuous shapes suspended in space, hung on the wall or displayed on the floor, each referencing qualities of the human body, classic and modern sculpture and so much more. The textures are beguiling, drawing the viewer in—some pieces are quite intimate, some life size, and others large and intimidating as they look down on the viewer. Hanne's dexterity in getting the heavy, coarse fibers to contort with the use of a needle and filament is impressive, as is the way she uses perspective— an integral part of the installation and viewing of these incredible sculptures.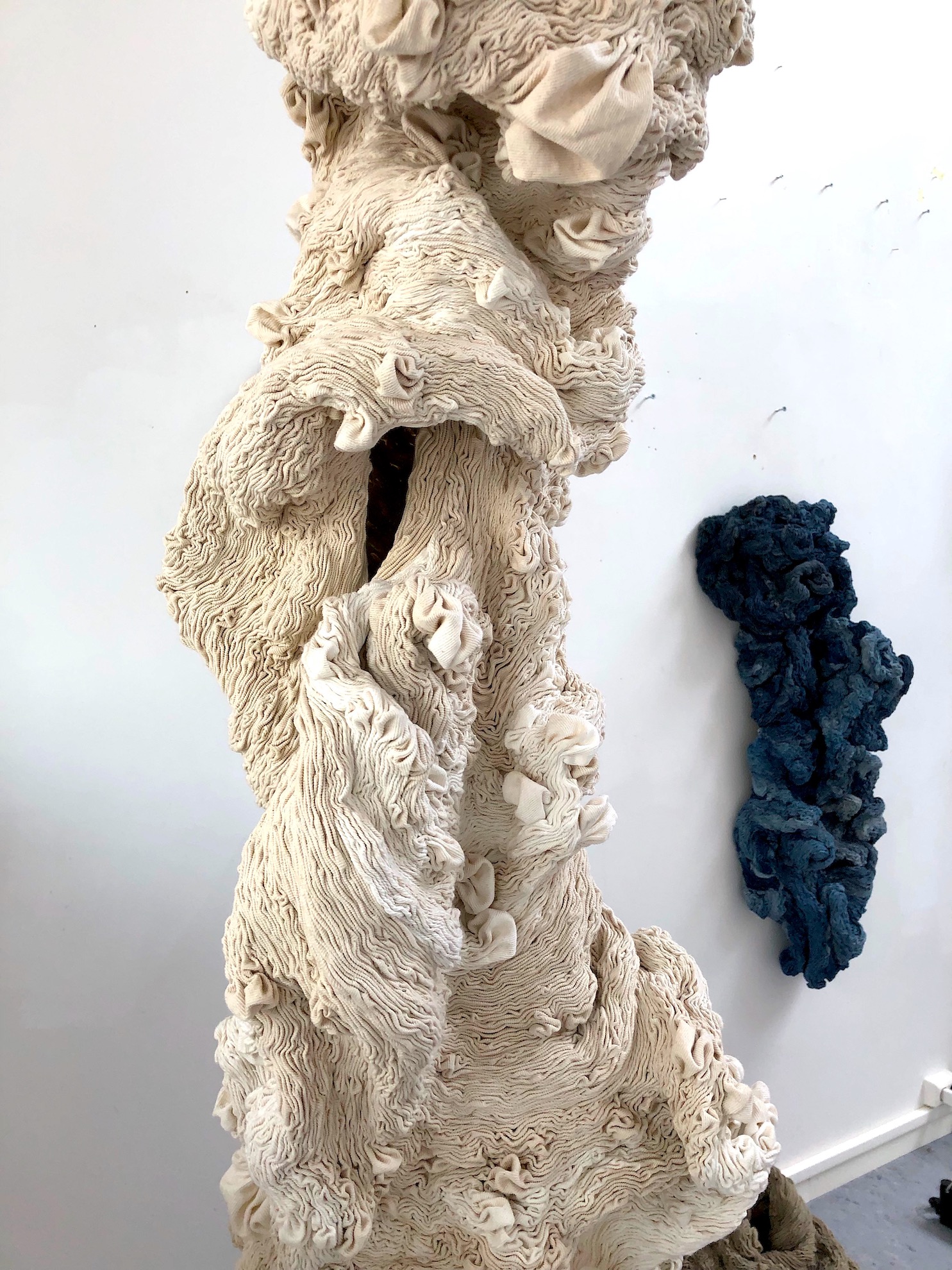 Detail of Hanne Friis sculture
Canvas in the pot with acorns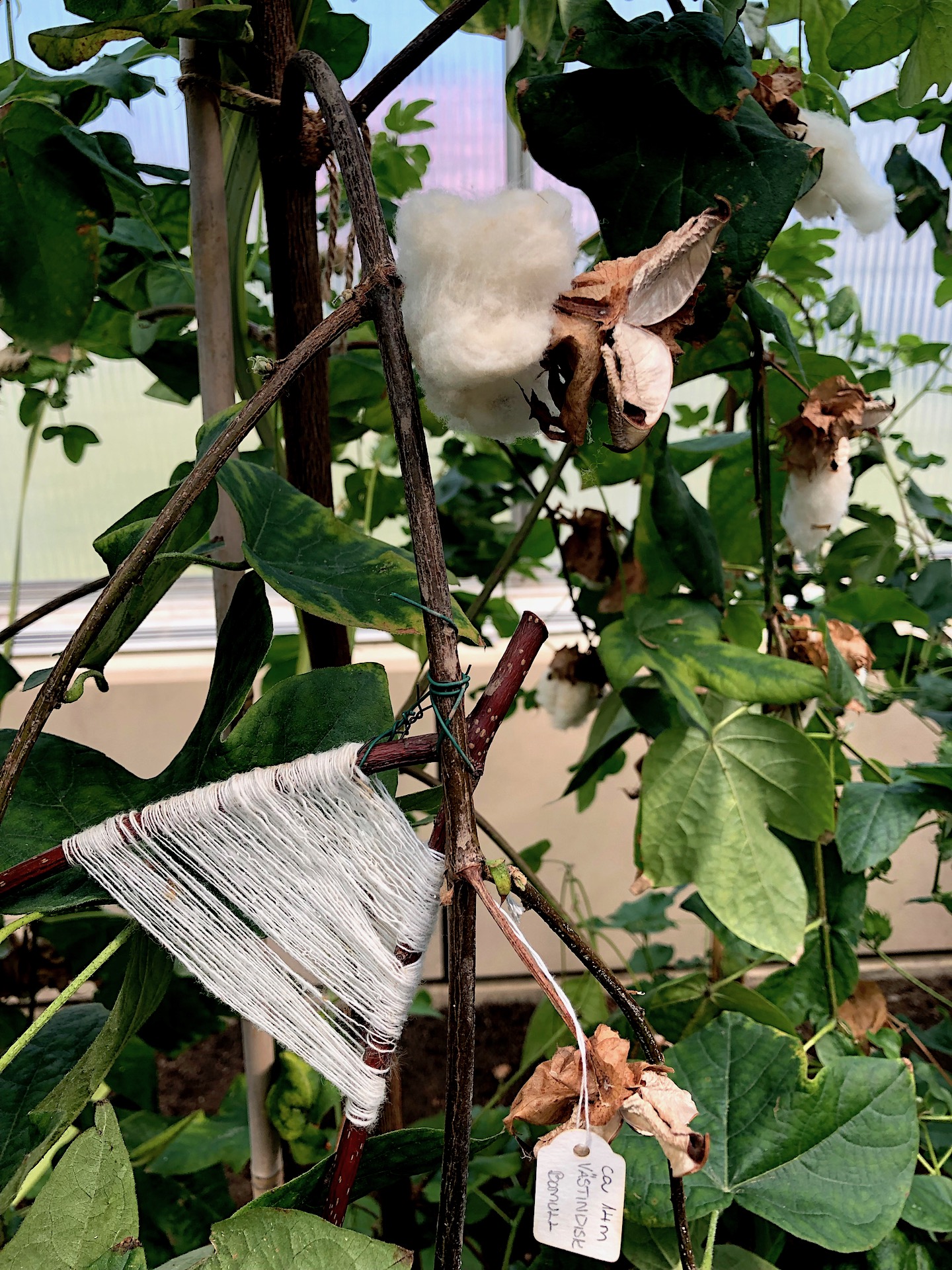 Bergianska Tradgarden
Kaili, gardener and fiber artist extraordinaire took me on a tour of the green houses and gardens featuring fiber and dye plants in the Stockholm botanical garden. Persicaria tinctoria, isatis tinctoria, and suffrictosa are among the varieties of indigo and dye plants she is cultivating on location. I loved seeing the variety of cotton growing in the tropical room as well as other fiber plants. Kaili has a fun way of showing the resulting color/fiber from the plant dyes with a display of sticks with the fiber wound around positioned next to the dye plants. Originally from Estonia, I loved hearing about Kaili's research of Estonian textiles and fiber techniques and their implementation.
Katja and Tin
I was met with so much enthusiasm by artists in Stockholm. Many are invested in their own explorations of natural color as an art medium and dye. Tin and Katja invited me for lunch and conversation around research and process. Delicious nettle soup, salad, wine, coffee kept us sustained as we shared information and solidarity around natural pigments. Katja shows her experiments with a lightfast beetroot color on paper and wool. I was also impressed with their screenprints featuring Tin's insect illustrations. You can find those on my Instagram account @ biohue.
Stockholm, Artists and Dyers
Petra Holmberg, curator and avid bundle dyer orchestrated an afternoon of with Stockholm creatives to explore lakes and mineral paints. Pictured is artist Madeleine Harper and her beautiful samples from the days experiments.
One of the highlights of my trip to Sweden and Norway was watching the transition from winter to spring…the birches sprouting their fresh baby green leaves was a delight.
Biofilms with Amanda Selinder
Back in November 2018, I made a post on Instagram announcing I was writing a book on artists and the use of natural pigments and mediums in contemporary art….and if anyone wanted to participate or knew anyone working in this manner, to contact me. Amanda messaged from Gothenburg, Sweden and said I was welcome to visit anytime and she would introduce me to others. I remember thinking…Sweden, sounds great! how much are plane tickets?
I was so intrigued by the idea of growing an art medium, I had to see it in person. Related to kombucha, this substance (see rubbery looking stuff in the water) is bacteria that forms from a seemingly invisible quantity to something that looks and feels quite substantial; what is pictured here is about 10 days of growth. Texturally, it feels dense, a little spongy. When the water evaporates, it shrinks substantially and can become quite thin and have the appearance of skin. Amanda uses natural pigments to color her pieces, forming them into site specific installations. Check out her work on https://amandaselinder.com/
Cheers to Amanda for connecting me with some really thoughtful and engaging artists in Sweden and Norway.
Artist Jeanette Scharing
On a sunny and brisk day in April, I met the environmental artist Jeanette Scharing at the Park Trädgårdsföreningen in Gothenburg, Sweden. We had tea and a discussion about contemporary art and the integration of collaboration, color and science. Her installations are visually and emotionally powerful—beguiling and raw with a tension I found palpable and deeply affecting.
Find her international projects and philosophy on Jeanette Scharing.net
Jeanette Scharing's book, Matter in Motion and the Mysticism of Nature's Color is on Amazon and Adlibris.com
Heidi's Cabinets of Curiosities
My final stop on the magical mystery tour of Washington State and Vancouver was to Heid's beautiful studio in Everson, WA. She has shelves and shelves (the photo captures about 1/5th of her collection) of ochre from around the world, all catalogued with the utmost care and respect for the medium. The earth pigments are sacred to Heidi and that came across so clearly as she described her practice.
As with vivianite, ochre regenerates over time, forming continually in some places that may seem unlikely…like waste-water treatment plants. So many stories are encased in each of those bottles of earth, I'm yearning to hear them all.
Find Heidi Gustafson on instagram:heidilynnheidilynn, and her shop and workshops at earlyfutures.com
Melonie Ancheta
Near the Canadian border, not so far from Bellingham, I met up with Melonie who was kind enough to introduce me to some of her collection of vivianite (pictured). There is so much I don't know about this mineral pigment, and Melonie is the one to ask! I had considered earth pigments as a finite medium, use it up and it's gone…not true for all earth pigments. Vivianite generates itself over time and transforms organic matter (if I have it right, iron must be present) into a hardened solid blue mass. There are different variations and I was lucky enough to see some samples of Melonie's collection, she has researched vivianite extensively and is an authority on its use as paint in Northwest Native American artifacts. You can find her at NativePaintRevealed on Instagram and NativePaintRevealed.com.
Artisan Ink
Tim McLaughlin is Artisan Ink (find him on instagram) with a penchant for dip pen work and journals. My visit to his digs at the Maiwa Loft on Granville Island in Vancouver was a real treat— he shared recipes, texts and compared new library acquisitions as well as queries, quandaries and solutions to perplexing ink and paint mysteries…Like why is phytolacca americana so volatile/fugitive? Tim knew the answer. If you're in Vancouver, I recommend signing up for his classes, check out the innovative workshops available on the Maiwa.com site.
Handcrafted Color
Art Lab Usa creator Happy Kush (yes, that's her name) showed my around her lovely home laboratory and we got to geek out all things natural paint, pigment and ink related. I became aware of her experiments through Instagram and felt an immediate affinity for her endeavors. We talked recipes, artmaking, how to take these endeavors into the broader community. She is an artist and software engineer, combining her many talents to create meaningful work. There was even time to mess about with paints and inks. Thanks, Happy!
Botanical Colors
I kicked off my Northwest expedition with a visit to Kathy Hattori and her business, Botanical Colors. We discussed extracts, dyes, and of course plants! In the photo you can see a lovely bowl of Wolf lichen all set for some dye testing. I left with little bag of my own Seattle lichen, and some gum tragacanth— a binder with a long history and plenty of uses including textile printing and dry pastels. If you haven't checked out her site…you should…Botanicalcolors.com.
Printmaking SOMA Camp 2019
Sample prints from printmaking class using mushroom ink. It was a whirlwind class…In 3 hours students received directions, watched a powerpoint, designed blocks and created a 10 print edition! They met the challenge with creativity and joy. Everyone left with a copy of each other's work. The ink was made with the pisolithus mushroom and a sodium alginate thickener.
It's All Natural Part 1
Large color chart in assembly stage. All colors handmade.
Top row is all indigo. second row, pokeberry, cochineal and virginia creeper berries. Third row is birch leaves, coreopsis, virginia creeper and Oakland ochre (Oakre).
Part 2 revealed soon.
Mushroom Season is Upon Us
Spore prints, why not? This one is a large mushroom from my yard. Place the mushroom gill side down on your paper overnight, et voila!
For white spores, be sure to use darker paper or paint the surface. The spore print here was placed on some watercolor paper brushed with my indigo and pokeberry ink.
12.16.18 Context
Reflecting on a residency 2 years ago, in December-January 2016/17. I had this intimate installation, devoted to may pigments and color experiments with the local berries and earth. This in contrast to the large scale charcoal drawings about real and invented spaces.
11.19.18 Hittin' the Road in 2019
At long last the promised book is coming together. I'll be interviewing some of the artist/makers of the natural pigment world and posting interviews on the blog posts, Instagram and putting the best bits in the book. I love collaborating and this is an opportunity to see what's happening out in the world and incorporate it into a book about process and artists.
If you have thoughts or suggestions of people to visit, let me know.